30mar(mar 30)9:00 am31(mar 31)9:00 pmMIT GLOBAL STARTUP WORKSHOP 2023
Event Details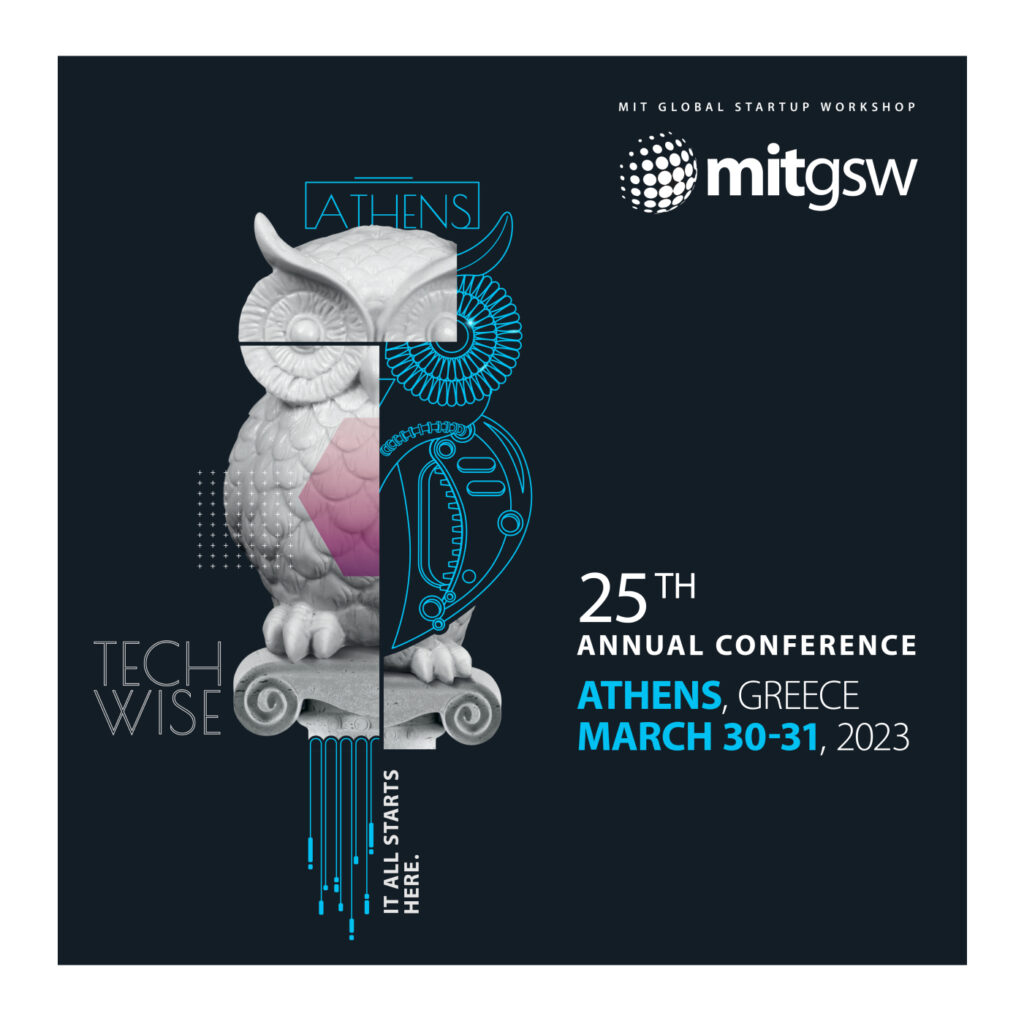 MIT GSW 2023 AT MEGARON THE ATHENS CONCERT HALL ON MARCH 30 AND 31, 2023
The Massachusetts Institute of Technology (MIT) is bringing its world-renowned technology and entrepreneurship expertise to Athens on March 30 and 31, 2023, for the 25th Global Startup Workshop.
This unique event offers participants the opportunity to learn from the best in innovation and develop their entrepreneurial spirit.
With access to more than 15 panel discussions, prominent keynote speakers, and workshops, attendees will gain the collective knowledge of MIT-affiliated experts, successful entrepreneurs, and investors. 600+ attendees will have the opportunity to meet in a hands-on experience and share information about the most promising technological opportunities.
See the speakers in detail on the site
A Startup Pitch Competition will be held during the Conference, where all competing teams will showcase what they've been working on and compete for cash prizes and free specialized services.All teams selected to pitch at the competition will receive a booth during the Conference's Tech Showcase to demo their product/service. They will also be pre-qualified to enter the next MITEF Greece Acceleration program in October 2023.
MIT GSW 2023 is under the auspices of the Ministries of Development and Investments, Education and Religious Affairs, Labor and Social Affairs, Digital Governance, the Region of Attica, and the Hellenic-American Chamber. The Martin Trust Center for Entrepreneurship supports it, the Legatum Center for Entrepreneurship and Development, and the REAP Entrepreneurship Acceleration Programme. The Greek Alumni Association of MIT and the Hellenic Innovation Network co-organize the event.
"This is a unique opportunity to learn from some of the best and brightest in tech, gain valuable insights, and connect with like-minded individuals," says Daniela Gorza, one of the co-directors of the MIT GSW. Farhan Khodaee, another MIT GSW co-director, added, "We want to bring deep tech expertise and entrepreneurial expertise that has helped launch many startups at MIT to other markets and have an impact. Gerasimos Spyridakis, President of MITEF Greece, which is hosting the Conference, said, "This Conference is an invaluable resource for startups looking to develop meaningful relationships within the network of the global startup community and make potentially transformative changes for their business. Every idea discussed at the Conference has the potential to revolutionize a startup. So is creating connections with influential people and access to resources", while Antigoni Molodanov, Executive Director of MITEF Greece, added, "MIT GSW is not a simple conference. It is global and targeted. It is about the present, and it speaks to the future. In the 25 years it has been organized, it has succeeded in creating an ideal destination for the start-up business community worldwide. It is a knowledge community that gives opportunities to network and explore cutting-edge strategies and solutions. In its 25-year course, it has achieved its goals in the constantly evolving business landscape in which it operates".
more
Time

30 (Thursday) 9:00 am - 31 (Friday) 9:00 pm