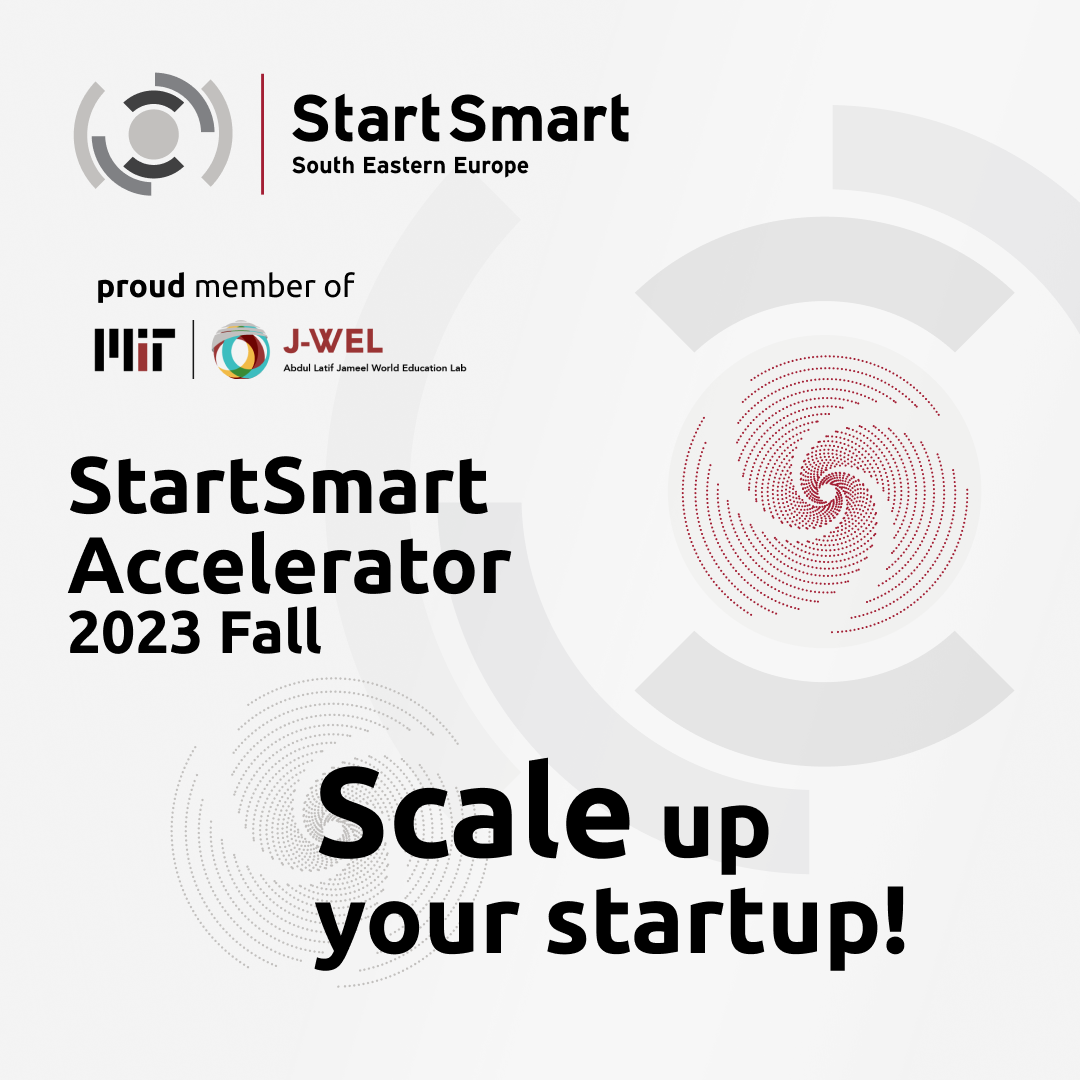 The StartSmart SEE Accelerator 2023 Fall is here!
Athens, Greece – September 25, 2023
StartSmart SEE, a member of the MIT Jameel World Education Lab (J-WEL), is thrilled to present the upcoming Accelerator Fall 2023 edition !
The StartSmart SEE Accelerator 2023 is set to empower selected startups in South Eastern Europe (SEE) by granting them access to a wealth of resources and support. Top mentors from the international business and investment scene guide the teams throughout the program, offering valuable advice and business training, as well as opportunities for international networking and funding for their faster growth. The program, which spans 12 weeks, starts on September 28, 2023, and ends on December 13, 2023, with the Demo Day and Awards Night. The program is offered at zero cost to the hand picked participants.
The StartSmart SEE Accelerator 2023 application platform closed on September 17, 2023. Dozens of startups from South Eastern Europe and beyond submitted their innovative products and services for a place in the program.
We gathered a panel of 60 experts, including investors, legal advisors, entrepreneurs, professionals, and academics, who carefully reviewed the team applications based on the key criteria:
Technology Utilization
Proof of concept
Innovation
Market awareness
Team expertise
Global growth potential
Welcome Event on September 26, 2023!
On Tuesday, September 26, 2023, we will host the "Welcome Event," a virtual get-together, during which we will warmly welcome this year's ''Semi-finalists'' who have stood out for their innovative projects.
Our Welcome Event promises to be an exciting meet-up between forward-thinking professionals and tech enthusiasts, all rubbing shoulders with accomplished personalities and mentors from the international StartSmart SEE network, all sharing a common passion for promoting entrepreneurship on a global scale. You are invited to be part of this exciting event, where we reunite to celebrate the launch of StartSmart SEE Accelerator 2023. Register here today!
First Workshop by EY on September 28, 2023:
On Thursday, September 28, 2023, we're kicking off with our very first hands-on workshop and doing it in partnership with the EY. At StartSmart SEE, we're all about the idea that knowledge is the foundation of success. Thanks to our collaboration with MIT Open Learning and the MIT Jameel World Education Lab (J-WEL), we have access to the latest research, educational resources, and a global network of experts, opening doors to exceptional opportunities for startups, entrepreneurial and corporate partners as well as the rest of our international community.
StartSmart SEE, headquartered in Athens, is a leading accelerator program in Southeastern Europe dedicated to advancing technology entrepreneurship. In collaboration with the network of MIT Open Learning and the MIT J-WEL, StartSmart SEE empowers startups, entrepreneurs, and corporate partners to drive innovation and cultivate a dynamic ecosystem for growth. Learn more today at  https://startsmartsee.org.
at €30 for students, and discounts are available for groups and academics. A discount will be provided for groups and Universities. Those who register before March 1st will claim one of the 200 "Disciplined Entrepreneurship" books handwritten by Bill Aulet.